March 17, 2011
Ford Fusion quick take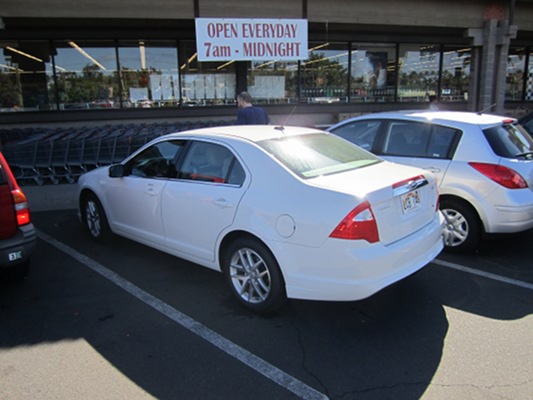 I had access for Fusion for longer than in case of Lexus HS, and a good thing too, because it took me a long time to figure out how to lower the seat. But once I did, it became rather comfortable (as we know, the headroom is of paramount importance to me). There were a few things to nitpick. The biggest problem is the excess width. The car feels grotesquely obese, even if I suspect it may not be much wider than any other car. The inboard position of seats may have something to do with it. The other problems were insignificant: the key tag kept biting me in the knee, for instance. It seems like a competent car.
Ford did away with a column-mounted shifter, which I thought added character to their products. If I remember right, the previous Fusion I drove in 2007 still had it. There is absolutely nothing wrong with the new shifter, but I'm a little sad. On the other hand, I wish they adopted Toyota's stalks. If you don't like "nostalgic" controls and swap them in for "conventional" ones, please go the whole way. I have a Jeep that uses Toyota layout for crying out loud. Continuting the same theme, Fusion uses the retarded red rear blinkers. I can understand Jeep doing that, they even sell red blinkers in Europe (I thought it was prohibited, actually, so imagine my surprise). But Fusion is a normal car.
Posted by: Pete Zaitcev at 04:03 PM | No Comments | Add Comment
Post contains 246 words, total size 1 kb.
Comments are disabled. Post is locked.
6kb generated in CPU 0.02, elapsed 0.0262 seconds.
22 queries taking 0.0175 seconds, 28 records returned.
Powered by Minx 1.1.6c-pink.