April 21, 2013
Albuquerque Motor Trend Auto Show 2013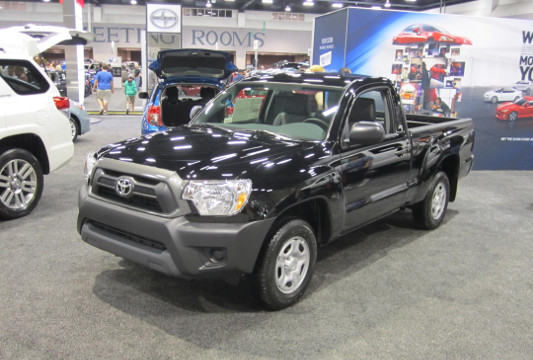 Attending this kind of event comes with certain constraints: basically it's an exhausting exercise of fit check after fit check, and a car beauty pageant. So, as a way to know cars, it's quite lopsided. But it's fun. With that in mind, a few highlights...
Mercedes C-class was a disappointment, made bigger by the surprise. It's not quite as bad inside as a rental Camry, but comes close, and nowhere in the class of, say, Lexus IS and ES. Not even in the class of BMW 3xx, which is quite nice. If BMW did something about their ghastly run-flats, I would be really interested. Unfortunately, BMW didn't bring the 1-series to the show.
A number of other interesting cars was missing, too. Nissan missed the show completely. Too bad, I meant to check out the Z. Toyota didn't bring Yaris. What's up with that? I love junk cars, and 3-door Yaris is one of the cutest. Sure, I looked at Prius C, but it's not the same.
Speaking of junk cars, GM Spark is outstanding. Of course, it's not warming the weaboo heart like Yaris, but the fake panels on the inside were amazing. Almost makes me forgive how GM assembly workers forgot to install brake pads on Spark.
Ford Fiesta and Mazda 2 turned out to be somewhat tight inside. Nothing impossible, sort of like Neon was. Of course back then Neon was surprisingly roomy, but this is 2013.
Even stranger, then, is how I simply cannot fit into Scion iQ. Headoom must be around 36 inches. The car does not look low, but I suppose the seat is too tall, and there's nothing to be done about it, absolutely nothing. Very disappointing, because I like the concept. Fitting into Mazda MX-5 is impossible too, but at least there it makes sense. It's a small sporty car and all that
In the end, Honda Fit is still the king. I hear some commenters call it "dated", which just makes no sense. In my world, there's "good" and "bad" and there's no "dated". What the heck is that, anyway? Fit is simply the best.
The cutest car at the show was actually a pickup: a Toyota Tacoma. "Cute as a button" may begin to describe it, but I am just a sucker for this kind of thing. It's a mistakenly conceived truck for the poor people: 2WD, manual, bench seating. I say mistakenly because the poor buy used full-sizers instead. Stole the show for me, really it did. See, I knew the merits of Fit beforehand, but this was a fun discovery.
To be sure, I learned a few other tidbits, too. Honda Civic retained the independent rear suspension in the age of decontenting. Honda Ridgeline has an amazingly long bed (and a clever gate). Silly commenters made me think that its bed was too short, but they knew nothing. It's a couple of feet longer than SportTrac's, possibly even longer than the bed of Crew Cab Tundra.
Oh, and finally - the Toyobaru FT86 twins: Scion FR-S and Subaru BRZ. Very nice. Low seating makes getting and out somewhat of a problem for less sporty people, but provides me with the vital headroom. Sadly the "new hachiroku" is a car that really must be driven, so there's no point in blogging it. Maybe when I crash the jeep, I'll get one. Unless I get a used BMW 135i, G37, or a Z. What a good time to be a car enthusiast.
UPDATE: Here's how Autoblog explains Fit:
Some six years later, the plucky little five-door continues to be a packaging wonder. Its flat load floor helps deliver a surprising amount of cargo area with the rear bench folded – up to 57.3 cubic feet. That number is more than twice what the Fiesta delivers, bests the Sonic by 10 cubes and the Versa hatchback by nearly seven. In fact, it's more space than class-above competitors like the Ford Focus, Hyundai Elantra GT and Mazda3 hatchbacks. And it's not just maximum cargo space where the Fit still wins, but also how those cubes are reconfigurable to accept objects of various shape and size.
Frankly this makes me concerned. Remember the original Scion xB? Remember how Toyota screwed up the redesign?
Tags: cars
Posted by: Pete Zaitcev at 04:43 PM | Comments (1) | Add Comment
Post contains 718 words, total size 5 kb.
1
A two door Tacoma with a manual transmission and bench seat was rare when I worked on the Tacoma assembly line in California. By 2008 most models were automatic with bucket seats, extra doors, and 4WD or Prerunner.
We had gone from building a small utility truck popular with delivery companies, to building a midsize truck that was a discretionary purchase for people wanting to tow or transport light recreational cargo. When the economy faltered in 2008, the market for discretionary purchases dried-up, and in just a few months we went from two shifts a day to one shift with no overtime or Saturday work.
I'd like to see the return of small basic work trucks and the wider use of small car-based vans like the Ford Transit Connect.
Posted by: Peter Reynolds at July 14, 2013 11:49 AM (Gdhyx)
Comments are disabled. Post is locked.
10kb generated in CPU 0.02, elapsed 0.0317 seconds.
24 queries taking 0.0195 seconds, 30 records returned.
Powered by Minx 1.1.6c-pink.