June 01, 2010
Lexus HS test-drive
Today I drove a loaner HS400h, the Prius-based Lexus. The main impression is, everything is crazily electronic. Also, driving it is what I imagine driving a Yurikamome train would be like (except that of course Yurikamome is computer-controlled and has no engineer). Especially the whine when braking really is cute. Did I say that Yaris was a car for weaboos? Well, this is the car for weaboos with too much money. Unfortunately, I am so used to a real car, that driving Prixus leaves me unimpressed.
The biggest issue for me is the same as usual: despite being taller than the IS, HS miraclously remains equally constrained in the headroom. I had to drive it while tilting my head or bending like an earthworm all the time. This is all the more galling givin how it's not just taller than IS, but also wider. It is a massive car.
That aside, the computer UI offers an amazing innovation: mouse cursor. That's right, things we take for granted since 1984 Mac finally were recognized by automakers (well, an automaker). In every car I tested this far -- BMW, Lexus, Infinity, etc. -- they went to crazy lengths to design a UI that was different from the computer one. I suspect the influence of PhDs who spent their baren careers in futile attempts to improve upon the cursor. Well, no more: HS offers a mouse, at freaking last.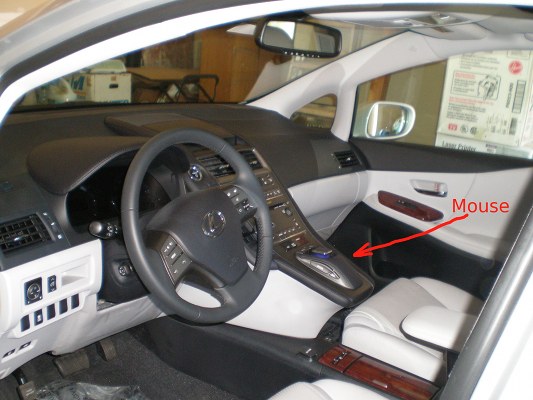 The controller is similar to Thinkpad's nipple, but it's so much easier to use, there's just no comparison. I hate the blasted nipple, because I cannot control it precisely enough to point. But HS' "nipple" is big and has a long travel at each axis, so it's convenient and pleasant.
But there must always be a fly in the honey. Computers being computers (or underpaid programming monkeys to whom Toyota outsourced the programming being what they are), I stepped on a bug within 10 minutes of taking the keys. The Miku Hatsune MP3s that I downloaded from Amazon won't play. The system shows the filename, but cannot read the tag and skips them. Brilliant, Toyota. My $110 radio in RAV4 plays them just fine!
Posted by: Pete Zaitcev at 07:09 PM | Comments (3) | Add Comment
Post contains 363 words, total size 2 kb.
1
Indeed, that computer interface would have been truly cutting edge in 1980.
Posted by: moritheil at June 01, 2010 07:52 PM (yzG3j)
2
The key is the cursor that can point, plus some safety solutions: screen in front where you can look at it without losing visial contact with the road. BMW has what amounts to a joystick, but no cursor. It just cycles through labels like some silly videogame.
Posted by: Pete Zaitcev at June 01, 2010 07:56 PM (/ppBw)
3
Oh god Mori, you're on the Diet now?
Posted by: Pete Zaitcev at June 01, 2010 07:57 PM (/ppBw)
Comments are disabled. Post is locked.
8kb generated in CPU 0.02, elapsed 0.0343 seconds.
25 queries taking 0.0229 seconds, 32 records returned.
Powered by Minx 1.1.6c-pink.