March 15, 2013
2012 Ford Focus hatchback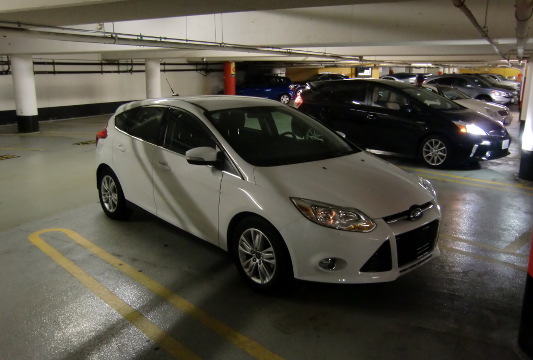 I skipped a few "Rental Car Review" instances mostly for not being relevant, such as Chevy Impala: The Worst Rental Ever that Almost Killed My Family (a wheel bearing was on its last miles). This Ford thing is pretty cute though.
First, the good: gosh this thing is sporty. Driving it helps one understand the appeal of the "hot hatch" in the minds of people. Personally, I was in hotter sedans before, but Focus does have its charms. Secondly, the CVT works great. Cannot say anything about its durability, but it wasn't clunking as much as Fiesta's.
Now, the bad.
The throttle requires exquisite management, and I'm not joking. It's easier to launch Focus with a manual without jerking your passenger around than with the CVT. The throttle is fully programmable and there was plenty of underutilized travel, so why did Ford choose this?
Visibility to the rear is nil. Now, I heard a lot of complaints from my family about various cars on this score over the years. Some even thought JK lacked visibility, but it never was an issue for me. Well, this is the time for me to suffer their suffering. Backing up was a crazy excercise. And there's no camera.
Finally, the thing is just plain too wide for what it is. Ford tends to go whole hog on width in general, which I noticed with the prev-gen Fusion. But man, that one was a car fighting for retirees with Buick. This one is different. Why so wide? Yeah, it helps cornering, but there must be limits.
Tags: cars
Posted by: Pete Zaitcev at 01:33 PM | No Comments | Add Comment
Post contains 267 words, total size 2 kb.
Comments are disabled. Post is locked.
6kb generated in CPU 0.02, elapsed 0.0243 seconds.
22 queries taking 0.0165 seconds, 28 records returned.
Powered by Minx 1.1.6c-pink.