April 11, 2014
Albuquerque Motor Trend Auto Show 2014
I did not try to kill myself checking out every car this time (almost killed myself last year and did not like it). So, the personal highlights follow.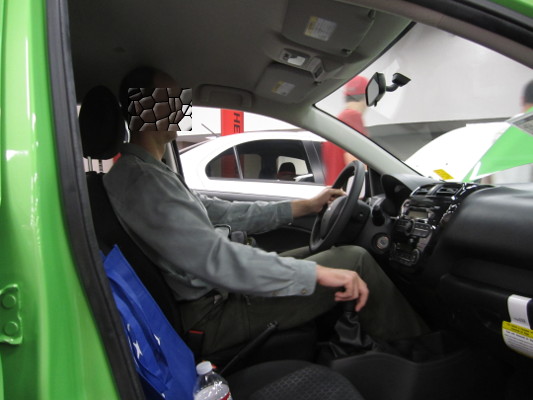 Car of the show is Mitsubishi Mirage. I know that it was maligned by the car press and that supposedly it drives poorly. Sure, it's made by Mitsubishi, which teeters on the exit from the U.S. market. But it only costs $13k! THIRTEEN. I was in the market for "cheap" cars last year (got a Fit). You could not even get a poverty spec Spark for that much. And the Mirage is rather comfortable even for someone 6'5" or 200 cm tall. Even steering and pedals are in the right place. I drove a FIAT 500, and had to drive it with outstretched arms. Sorry, Sergio, but this is way better. I am fighting the urge to visit the dealer and drive one of these.
Of course if we consider quote-unquote "cheap" cars overall, then Honda Fit is still the king. They rolled out the redesigned 2015 model, and it's just as good as the one I bought last year. A little full of electronics, but whatever, it's the life.
The civilian Ford Transit Connect was the close runner-up after Mirage. It's awesome in how purposeful it is. If you need a universal transportation module, nothing better exists on the market. And that headroom! Kickass! Only $25k, too.
Ford brought out the new 2015 Mustang with the IRS, but it was labeled "Prototype Vehicle Locked For Your Protection". Jerks. Jeep people did not bring Renegade either.
The hachiroku is still very nice. Well, there was no change from 2013.
Forrester is nice but overpriced.
Nissan continues to boycott the show, except for Infiniti.
The entry BMW still has a better interior than Mercedes, but the difference is not anywhere as stark as it was in 2013, when Benz was crazily bad. A lot would come down to their infotaiment, but cars were unpowered. Neither brought out one of their new FWD cars. I can understand missing 2AT, see Ford and Jeep above, we are in deep flyover country that did not deserve it. But CLA is a 2014 model! Perhaps I missed it after all?
I had time to sit in S-klasse. Ugh. Gauche as all get out. Even has the analog clock. If that's what the rich have to deal with, I don't want to be rich.
Finally, I pinched my fingers in an Acura door. Window was open and I closed the door while holding the frame. That hurt 3/10. I was too used doing so in the Jeep, but was no Jeep. I suppose it only takes one lesson not to do that for an Acura owner, and it was my own fault, but not an excellent first impression anyway.
Tags: cars
Posted by: Pete Zaitcev at 04:27 PM | No Comments | Add Comment
Post contains 479 words, total size 3 kb.
Comments are disabled.
7kb generated in CPU 0.02, elapsed 0.0306 seconds.
22 queries taking 0.0194 seconds, 28 records returned.
Powered by Minx 1.1.6c-pink.