April 06, 2012
Haganai Portable, and finally Rika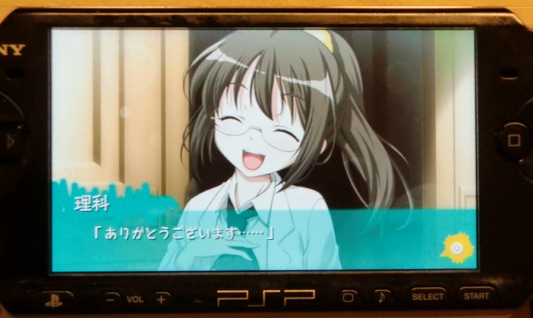 Back when I dealt with Yukimura and switched my attention to Rika, I raged a little bit about the numerous flags on Rika's path, without a way to know what or where they are (I should note, however, that it's rather normal for legacy VNs). But when I looked at the path seriously, it dawned on me that there's a system to the flags: they all are related to Kodaka's failed confessions. In other words, first, once you know about idiotic dialog traps that Namco inserted, the path is discoverable, and second, Rika's path requires hounding the poor thing. Not stalking: everything is very proper and each failure is played for comedic effect. Nonetheless, I think I hit the "理科を口説く" button no less than 20 times. Fortunately, the result was quite worth it.
I remember being disappointed about Sena, although intellecutally I saw why she was laid out like she was. And now I am content completely, because Rika is what I wanted. No confused teenage sex here, in fact it seems that Kodaka wears skirt in that couple in the end. Rika's ending is the only one that includes a sizeable epilogue that makes up for the grind. In it, we see her continuing to apply her genius talent for the cause of science, with Kodaka playing Tanda to her Balsa. By the way, Toradora P included a branch like that, with Sumire. One has to wonder if a certain formula is being followed in both cases, but in any case the product tastes great.
One thing I noticed that Rika's pervertedness abated as the aforementioned hounding took a toll. I don't know if this was in-character for the anime, but it worked in the game, and explained that as a sublimation. She is a real role model for frustrated fujoshi everywhere.
P.S. Spoiler video for the epilogue: Youtube:0cmZd_6GZ3U.
Posted by: Pete Zaitcev at 08:46 PM | No Comments | Add Comment
Post contains 315 words, total size 2 kb.
Comments are disabled. Post is locked.
6kb generated in CPU 0.04, elapsed 0.0605 seconds.
29 queries taking 0.0386 seconds, 26 records returned.
Powered by Minx 1.1.6c-pink.