September 04, 2012
Anime for Rednecks 2012
For this year's showing of anime to rednecks, I wanted to expand it a little. Usually they are not in any way interested, and last year I had basically make them watch Cat Shit One at gunpoint. They liked it, however. So, it naturally came to re-watching it, this time on R1 DVD.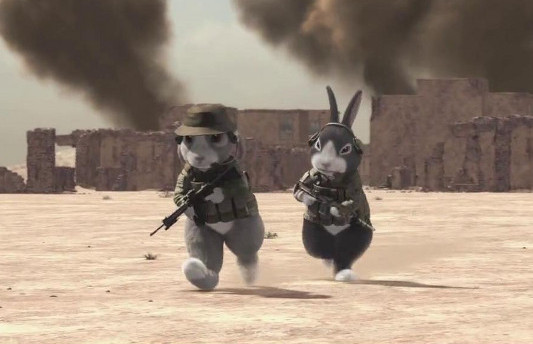 Cat Shit One: Bunnies killing the living shit out of everything.
But I wanted to add a little something, the question was what. It had to be available to me away from the Internet (Crunchyroll.com suddenly became a big problem). It had to be sufficiently outrageous or epic, too. And it had to be accessible to the uninitiated. I thought about, for example, post-timeskip Gurren-Lagann, which is the most epic of them all. Remember how Lord Genome said: "I know I have no right to act as your father, but you've done well"? And Nia replied: "Thank you, father"? And then they went total badass. I get chills just recalling that. However, it's a Super Robot show, and it's 20+ episodes of build-up before that. So, I put kibosh on that, and a few other worthy candidates.

Midori no Hibi: She is more than his right hand.
Eventually it came down to an episode of each of Midori no Hibi and Strike Witches. The former, I think, showcases the good side of anime well, and is pretty funny. The later is quite outrageous enough, and I have it on legal DTO that I bought from BOST.com.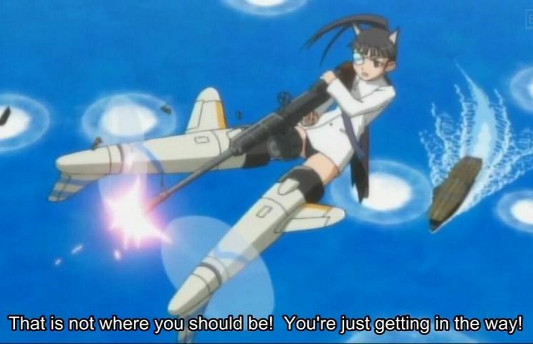 Strike Witches: Pants would only get in the way.
In the end, the showing was a modest success, and hopefuly set some expectations better. Already thinking about the next year, and yes, if it means go pirate, so be it.
Tags: anime
Posted by: Pete Zaitcev at 06:11 PM | Comments (1) | Add Comment
Post contains 295 words, total size 2 kb.
1
The anime showcase out in the desert was a great addition to the trip, even if it was interrupted by a jackrabbit sighting (GIT YER GUNS, GUYS!!! JACKRABBAAAATTTT!!!!) Ahem... Alright, back to the anime. So yeah, I think we all had fun watching camel blood spray and helicopter pants. Very fitting addition to an adventure-filled weekend. Thanks, Willy Pete! ;-)
-Rodney
Posted by: Rodney Sparks at September 04, 2012 10:27 PM (Xr0U7)
Posted by: terbaik at March 07, 2013 07:32 AM (tNvk1)
Comments are disabled. Post is locked.
8kb generated in CPU 0.01, elapsed 0.0285 seconds.
25 queries taking 0.0196 seconds, 31 records returned.
Powered by Minx 1.1.6c-pink.