December 05, 2013
Golden Time begins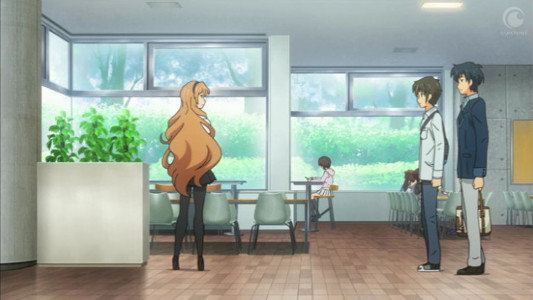 I cannot stop watching this terrible romcom and I blame two things: Evirus and Crunchyroll. I don't think I would ever bother torrenting, and I would not give it a second chance after the facepalm of ep.1 without Evirus' advocacy and spoilers.
Oh, and one other thing: the comparison with the classics is very instructive here. When I watched, say, Initial D, I never paid any attention to the moldy tropes as they occured, because they were masterfuly deployed. When I watched Yowapeda, the same tropes were obvious and painful. What is that magic of competence? I am sure Yamakan would love to know. Golden Time, too, makes me appreciate initial Ai yori Aoshi and the original Nodame this much more.
Tags: anime
Posted by: Pete Zaitcev at 07:26 AM | Comments (3) | Add Comment
Post contains 126 words, total size 1 kb.
1
Okay, so I might add Initial D to the list of 'to watch' series. I'm not usually a romcom type, but, like music, anything done well is worth experiencing.
I'm not sure what to think about about this series. I can't remember whether the manga or the light novel first caught my eye, but I bounced around to see what would happen between Kuoko and Mitsou, then got drawn in to the Banri background, which made Linda more in focus...
There seemed to be a pretty nice build right up until anime episode 10, and now it looks like it might fall into typical fare. It will be sad if it does, but not especially sad, if you know what I mean.
It is also interesting how this and Infinite Stratos have both rushed through the light novels to the point where they have almost passed them by.
Posted by: topmaker at December 07, 2013 03:01 PM (2yZsg)
2
Initial D
is not a romcom. If anything, it's a shonen slash sports. Sorry for the unclear wording. If you want the best romcom, look at
Nodame
.
Posted by: Pete Zaitcev at December 07, 2013 08:06 PM (RqRa5)
3
The most I can take sports in anime is the baseball tournament in Summer Wars. That's about it. However, if they really do a trope right, well then...
But I will give Nodame a look.
Posted by: topmaker at December 07, 2013 08:23 PM (2yZsg)
Comments are disabled. Post is locked.
8kb generated in CPU 0.03, elapsed 0.0342 seconds.
24 queries taking 0.0207 seconds, 32 records returned.
Powered by Minx 1.1.6c-pink.