October 16, 2015
Fragment's Note
One day, a girl condenses out of thin air in front of you. She is your daughter from the future and she's on a mission to correct some of your poorly advised decisions. You are in the Japanese remake of Back to The Future.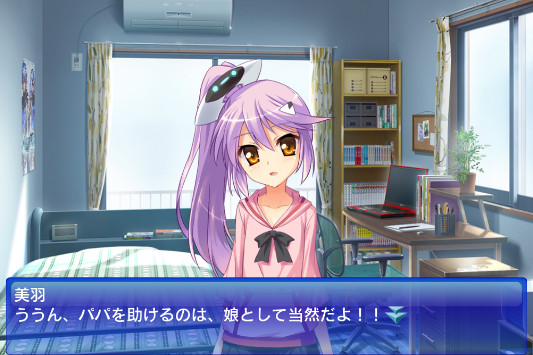 The Fragment's Note is another one of those rare Japanese games that are easily available outside of pirated images for Windows (and is not some kind of ridiculuous pornography). At present time, the version in Google Play is in English, while Apple provides a Japanese version for $4. Overall, I think, one can see a theme: the leakage of Japanese games into iPad is greater than into the competition.
Unfortunately, F'Note is not Kanon, again. To begin with, the port to the platform is nowhere as polished. Where Kanon has beautiful resizeable fonts that you can pinch-zoom to work with any portable device and any old eyes, F'Note goes by with one-size-fits all fonts. If the system kills the app, it does not remember where it was and must be loaded from a save. It's ridiculously easy to enter auto modes by mistake, merely touching the iPad in unlucky way. But at least it's playable and there isn't a mouse emulator panel.
The story is nothing to write home about, writing is repeatative. But I learned a few kanji, so $4 well spent. The purchase served its purpose. And it's way, way longer than Hime-Hime Booking: I spent a couple of months on this. I only wish Google stopped being so obnoxious and sold the games that Apple sell. I haven't found anything on iPad that is as good as IMI for Android, and it turned out to be very inconvenient to juggle two tablets.
P.S. Appanretly, VNDB is the only place on the whole Internet where the playthrough exists in a post by member yoxall. Here it is in case it goes down:
Mischa's Route:

I'm showing Mischa around town.
I'm going to the cafeteria.
Eat on the rooftop.
Go to the rooftop.


Haya's Route:

I'm going to the store with Haya.
I brought my own lunch.
Eat in the courtyard.
Go to the park.


Eri's Route:

Uhh...
I'm gonna go buy something.
Eat in the classroom.
Stay in the classroom.

The reverse translation is obvious except for the cafeteria, but figure it out.
BTW, Shizuku literally never appears. There's no such character. I don't know how she manages to get a side story.
Posted by: Pete Zaitcev at 10:39 PM | No Comments | Add Comment
Post contains 411 words, total size 3 kb.
Comments are disabled.
8kb generated in CPU 0.01, elapsed 0.0242 seconds.
22 queries taking 0.0168 seconds, 28 records returned.
Powered by Minx 1.1.6c-pink.