May 10, 2016
Albuquerque Auto Show 2016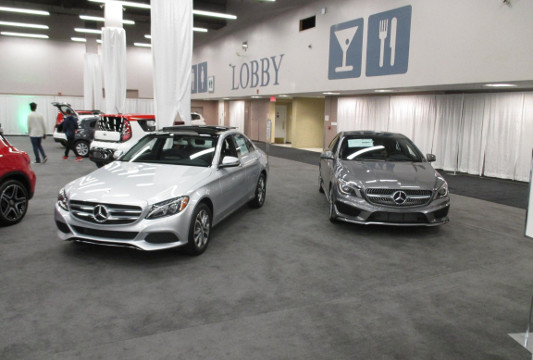 I write about GT86 every year, but I just don't have an excuse to buy one. Also, while I can fit inside reasonably well, I still can't do heel-and-toe (I can in a Wrangler). By this point I pretty much resigned myself to the reality that I'll never drive one. However, my better half was rather interested in MX-5. The ND model is very, very nice. I am even tempted to name it a car of they show. If only it came with a hardtop.
What I may have an excuse to buy is a Grand Cherokee (WK2). It's quite interesting, subject to my research into its 4x4. Many versions of it come without a two-speed transfer case (MP 3022). If that's the case, then Overland only gets a total or 1:16.2 (with the 845RE transmission and 3.45 final drive). Aside from the model and capability confusion, it's a great city SUV, and has enough headroom.
The new Ridgeline seems like same old, same old, just refreshed. At least they promise a massive improvement in the fuel economy.
One other intresting thing I examined at last was Flex. Man this thing is rad. And the tow rating is phenomenal. Just one more great car that I'll never buy. Another such article at the show was the Mercedes minivan.
Lexus products are going through a phase when interiors are unpleasant and the infotaiment is worse. It's too bad, because our 2009 IS was outstanding and we considered getting another one.
Mercedes was all over the place. The CLA was just terrible. They parked it right next to a C-class, and it left a big impression. The cars were so much alike, it was creepy. But in the same time, it was immediately obvious which one was good and which one was bad. The difference was even more prononunced from the inside. Frankly I cannot understand who in their right mind would even buy the CLA. You have to be really desperate for the roundel to decide to save money this way.
Some auto pundits were saying how the CLA, by taking over the duties of a junk Merc... er... the entry-level model, relieves the C-class from that role and permits it to improve. That certainly happened. I remember how C-class lost badly to 3-series a couple of years ago in this show. Not anymore. Coincidentially, BMW skipped the show this year.
In place of BMW, we finally had Nissan show up, so I sat in the Z. What can I say, it's about as tight as MX-5, which is tighter than GT86. No-go. BTW, that center compartment is just goofy.
Posted by: Pete Zaitcev at 10:35 PM | Comments (3) | Add Comment
Post contains 443 words, total size 3 kb.
1
What exactly IS heel and toe? I've only really started seeing the term in the last year or two. I gather it's some funky brake/clutch technique but that's about it.
Posted by: Mauser at May 15, 2016 03:55 PM (5Ktpu)
2
It's a technique used to downshift under braking. You use the toe to continue braking while using heel to blip the throttle in order to avoid the rear lock-up. There is a million videos and FAQs about it, and it's mentioned and shown in
Initial D
. My personal favourite is
the entertaining video of Keiichi Tsuchiya teaching drift racer ladies to grip
. Dori-dori himself shows it at 1:57 2:17. At 3:07 they berate Yukie Hayashi for not doing H&T right, although she tries. Shino Murai does it in 4:04-4:05 and gets praised for it, although you can see that the difference is merely the confidence to use just the bottom of the gas pedal. She is nowhere as quick as Drift King at it. This is what happens when you spend your career polishing your no-brake running style for exhibition drifting. Saori Ishikawa is at 5:00. She elicits no comment, because her weakness is elsewhere. Akari Nagasawa is at 5:54 and again at 6:10 where she's the only one not afraid to heel-toe her downshift in the middle of an esse. Poor Yukie though.
Posted by: Pete Zaitcev at May 15, 2016 10:46 PM (XOPVE)
3
Conversely, the Drift King's technique #3, "Shift Lock", uses the snap from the downshifting
without
heel-and-toe in order to initiate the drift. Normally, doing that would cause a spin-out.
Of course being this tall, I drove cars without heel-and-toe for decades. It is still impossible for me in most cars. The secret is very simple: I drove very slowly. By giving up the performance possible with heel-and-toe, one can ride the clutch, or coast into turns. It's just not going to win any medals.
Posted by: Pete Zaitcev at May 15, 2016 11:09 PM (XOPVE)
Comments are disabled.
10kb generated in CPU 0.15, elapsed 0.1122 seconds.
25 queries taking 0.0562 seconds, 32 records returned.
Powered by Minx 1.1.6c-pink.