April 26, 2015
Albuquerque Auto Show 2015
Unlike the previous years, the 2015 show did not leave an impression with a standout exhibit. Sure, there was Jeep Renegade there - a Lattitude model with 2.4L and the ZF 9sp auto. But they didn't bring a Trailhawk. Neither the 1.4L turbo was there. Granted, the jeep leaves a positive impression. The undercarriage looks pretty good, for a crossover. Headroom is good too. But there was not a surprise, a spice. BTW, they didn't have a Renegade available to drive.
The hachiroku in Subaru corner was exhibited side-by-side with a WRX, and frankly it's obvious which one is a high end car, and which one is a low end.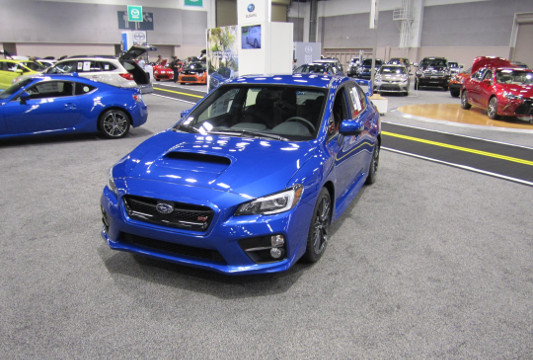 It really is a big problem: FR-S/BRZ is entirely too practical, and aims squarely at someone who needs a daily driver that works as a track car. Sort of the green-hood GT86 that Dori-Dori calls his "hobby car", except his car is probably not his daily driver even. Although you can go wild with the catalog, as the dude says at Jay Leno, the market for that is too small and not taking off as well as the market for Wrangler mods.
If someone wants a fast car from the factory, and not a machine to hone his skills, he could be better off with a Corvette, Mustang, or the WRX (now that the Evo is no more).
Moving on, the 2015 Civic has a surprisingly poor headroom. The fault is shared by its platform mate, ILX. I was quite intrigued by the latter's drivetrain, but this is just unacceptable. At least the new Fit looks just as excellent as the old one, although it uses a CVT now.
In the expensive car hall, BMW continues to destroy Mercedes. The Benz only wins in categories where BMW defaults: Sprinter, S-klasse.
UPDATE: Youtube:CkWyyY718AM by EverydayDriver channel.
Tags: cars
Posted by: Pete Zaitcev at 06:22 PM | Comments (3) | Add Comment
Post contains 311 words, total size 2 kb.
1
I dunno, I STILL have my eye on the BRZ. The WRX is just too Hatchbacky to me. But I'm so attached to my Loyale after 23 years, I had to set an artificial deadline of turning 300,000 miles to get a new car. but I might fight back because it's still running so strong.
But then I might miss the BRZ if they discontinue it for low sales.
Posted by: Mauser at April 27, 2015 04:38 AM (TJ7ih)
2
BRZ is great if you want to mod it. Now that I tasted adapting a car to my personal tastes with Wrangler, the thought rather appeals to me. But there aren't that many people interested in it enough to live with 2 doors.
Posted by: Pete Zaitcev at April 27, 2015 08:53 AM (RqRa5)
3
I only have three doors at the moment, the left rear doesn't want to unlock these days, even from the inside.
Posted by: Mauser at April 29, 2015 01:45 AM (TJ7ih)
Comments are disabled.
8kb generated in CPU 0.01, elapsed 0.0285 seconds.
25 queries taking 0.0198 seconds, 32 records returned.
Powered by Minx 1.1.6c-pink.