January 15, 2016
The Yaris in 2015
Executive summary: Yaris is a terrific obsolete little car.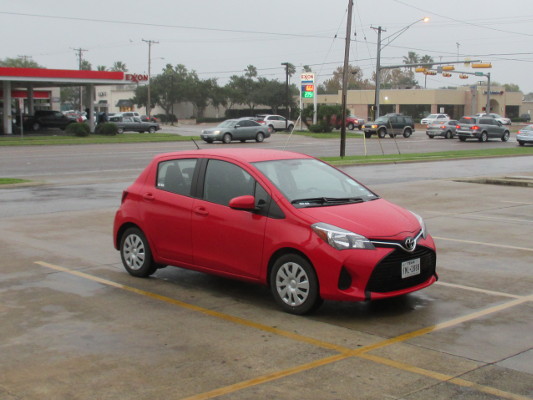 I am quite aware that it is not popular for ownership, and when I shopped in the category in 2013, Fit has beaten it easily. Fit's design is stronger inside and out, especially with the touches like the USB pigtail, all the cubbyholes, and of course the multi-function rear seats that are as famous as Caravan's hiding seats. Fit's internal volume is also larger, yet it's quite sporty even on the power of a 115 hp engine. Compared to Fit, Yaris is cute, but not as cute. It's fast, but not as fast. It's comfortable, but not as comfortable.
Still, as far as el-cheapo cars go, Yaris is quite nice. There's really nothig to complain about at the price. Okay, maybe finding a blade long enough for the Mercedes-style solitary wiper may be a chore. The seats are not thick, so they cannot comform to a wide variety of butts: you either fit great or not at all. But at least Yaris does not have the insufferable blue LEDs in the dash like Corolla. It actually uses a corporate round-corner radio that it borrows from Scions.
Another thing I like about Yaris is that it sticks to small wheels. I just cannot stand how constructors go for larger and larger wheels these days. Being a newly made holdover from a bygone era is sort of the theme in Yaris. In addition to sporting 14-inch wheels it has a CD player (with USB inputs, fortunately). It uses an obsolete drivetrain with naturally-aspirated 4-cylinder and a 4-speed conventional automatic. Although it returned about 30 mpg, I have to admit that the test included a lot of highway driving. But there's something endearing about the known and proven. Pretty soon cars like that will have 3-cylinder turbocharged mills and CVTs across the board. Just not yet.
Would I buy one? No, I bought Fit. But would I drive one? Totally.
Posted by: Pete Zaitcev at 03:52 PM | No Comments | Add Comment
Post contains 330 words, total size 2 kb.
Comments are disabled.
7kb generated in CPU 0.02, elapsed 0.0405 seconds.
23 queries taking 0.0296 seconds, 28 records returned.
Powered by Minx 1.1.6c-pink.