March 23, 2020
The future of .380 ACP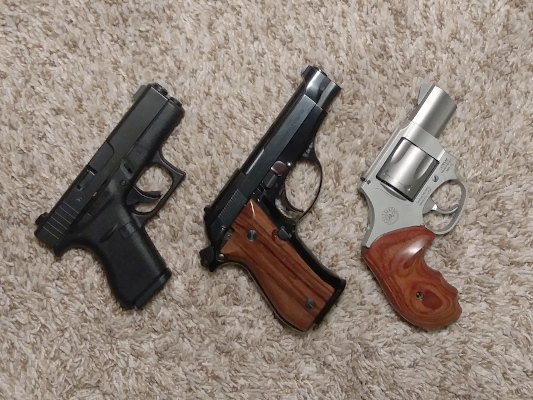 In response to a viewer's question, what pistol caliber is set to follow the .40 S&W into the dustbin of history, Jon Patton of The Gun Collective suggested .380 ACP today. Quoting:
It will take a while, but I think with the rise of the 9, 380 will start to fade away like .32 ACP and the .25 ACP did.
Well, I think it's a very risky bet Jon is making. What we're having currently are two trends: what he calls "the rise of The Nine" and also the buying public refusing to listen to the gun elite, and continuing to prefer the .380.
The former trend expresses itself in new and cool guns not being offered in .380, only in 9mm. SIG P365 and Glock 43X are the main examples of this. There is no Glock 42X and never will be. Probably.
The latter trend has started in 2003, when Kel-Tec introduced P-3AT and continued until the present. The industry steadily introduced new products in .380, such as Ruger LCP (2008), Glock 42 (2014), Browning 1911-380 (2015), Ruger LCP II (2016), S&W M&P Shield 380EZ (2018), and SCCY CPX-3 (2019). Even Beretta, who stopped making Model 84 relented and re-started the production!
As the two trends battle it out, the fate of .380 hangs upon an introduction of a small gun with 10 or 11 round capacity. It must be well designed and be of high quality. And it likely needs to be made by a top-tier brand, and be striker fired (until the LCP II appeared, this last point was a must, but I'm not as sure anymore). If this gun does not appear before 2023 at the latest, .380 is finished. If it does appear, it's going to let .380 catch up with the 9 yet again.
Unfortunately, if SCCY take the frame of CPX-3 and drop DVG-1 firing system in, the result will not be enough. It has to be SIG, Glock, Ruger, S&W, or Walther. Chances of that happening are not great, but not zero.
I think in a large part a company making these decisions depends on new shooters. Many commenters seem to think that the key feature of .380 that enabled its raise is the small size of the guns. It may have been so, but with P365 existing, it no longer is a factor. However, the lower recoil still remains. The .380 allows to make a small gun that is comfortable to shoot for beginners. That is why 380EZ came to exist. If a shrewd executive agrees with this line of reasoning, anything is possible.
P.S. See also the Lucky Gunner Ammo videos by Chris Baker, ".380 ACP: The Biggest Little Caliber" and ".380 ACP Pocket Pistol Roundup Review".
P.P.S. Remington RM380 was announced, delayed, and shipped in 2015.
P.P.P.S. I downloaded the 2019 Beretta catalogue, and the Series 80 Cheetah pistols are not in it. Apparently Beretta made one last production run of the Model 84 at the peak of the popularity of the .380 around 2015-2016, then canceled Cheetah again.
P.P.P.P.S. A post at SIGtalk about the P365 in other calibers made me look at ATF reports. And so, the fraction of .380 automatics produced and sold was:
Year - 9mm - 380
2019 - 57% - 15%
2018 - 54% - 20%
2017 - 48% - 23%
2016 - 48% - 24%
2015 - 43% - 23%
2014 - 35% - 24%
2013 - 38% - 19%
2012 - 35% - 17%

In other words, .380 peaked in 2014-2016 and was in decline since (before the 2020 pandemic).
Posted by: Pete Zaitcev at 09:40 PM | No Comments | Add Comment
Post contains 604 words, total size 4 kb.
Comments are disabled.
8kb generated in CPU 0.03, elapsed 0.0373 seconds.
23 queries taking 0.026 seconds, 28 records returned.
Powered by Minx 1.1.6c-pink.