August 28, 2013
flying: Takikawa 2013
While not frolicking in Akihabara on my trip to Japan, I took a detour to Takikawa Skypark to fly with a local soaring association. Unfortunately, conditions weren't good, so the flight was reduced to a short joyride rather than a soaring flight. We took a tow to 1500 ft up, found no lift, and landed after 15 minutes up (I logged 0.2 of dual just to be honest).
Here's a big blue gap at our 10 o'clock while under tow: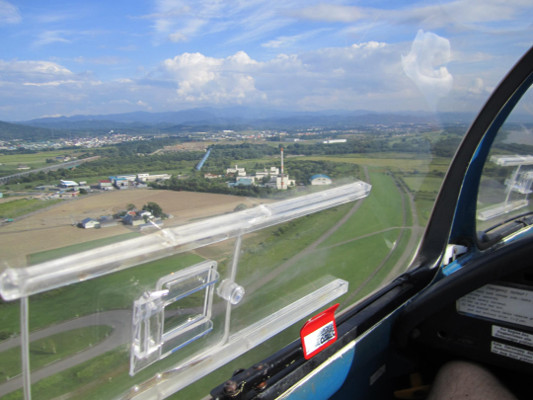 But with the rest of the sky being like this:
And here's my instructor's head while on final to 19:
One interesting part is that someone felt like it was necessary to maintain a controlling authority at a field where all of a glider, a motor glider, and a towplane may be flying around. In America, it would be ridiculous. In Japan (and Russia) it is the way to operate, apparently. I am somewhat more familiar with Russia, where every airfield has a control tower, often a monumental concrete building presiding over a grass field. Takikawa offers a more reasonable facility: a trailer that looks like a greenhouse: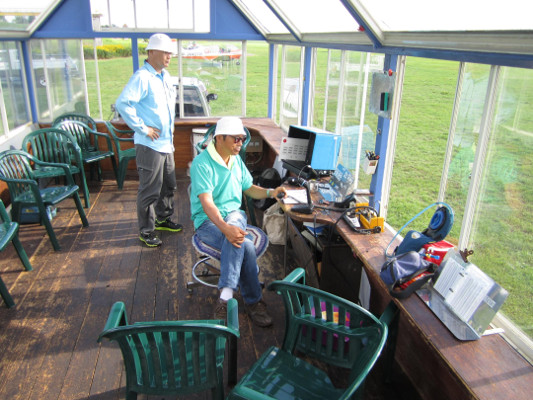 The overall lesson is that it's paramount to find the good weather, and it may not necessarily occur in the afternoon. The low ridges that surround Takikawa may provide wind lift in the mornings when the sea breeze blows over them in a certain direction. Their website actually has a document that discusses pecularities of the local weather, but not being a real glider pilot, I was unable to make a good use of it.
Posted by: Pete Zaitcev at 08:56 AM | Comments (2) | Add Comment
Post contains 266 words, total size 2 kb.
1
At first, the instructor's-head photo looked odd -- "where is the headset?" asketh me myself, but then I remembered that it's a quiet glider. A wee little engine might have been nice that day though.
Posted by: Frank Ch. Eigler at August 28, 2013 01:41 PM (r3xW2)
2
Gliders can create a surprisingly loud noise, from whistling to roar. One of Grobs at Moriarti does that. Generally it is undesirable and most are not that loud.
Posted by: Pete Zaitcev at August 28, 2013 03:18 PM (RqRa5)
Comments are disabled. Post is locked.
7kb generated in CPU 0.03, elapsed 0.0667 seconds.
25 queries taking 0.0474 seconds, 31 records returned.
Powered by Minx 1.1.6c-pink.