May 08, 2013
flying: Spaceport America is un-charted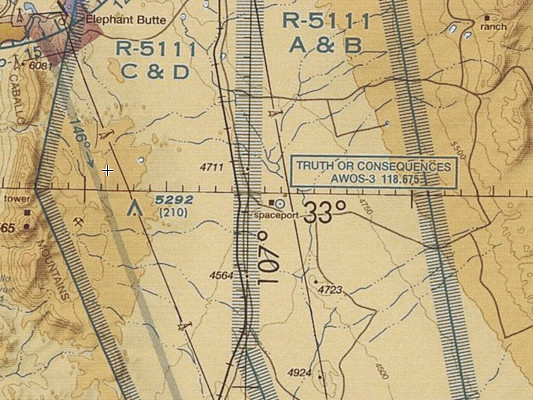 Current sectional chart introduces interesting changes: the spaceport is erased! Previously, the runway was properly documented with altitude of 4595 and length of 10,000. But now the private airport status is gone, and instead we get a landmark... And a free-standing AWOS at 118.675.
I am not entirely happy about this. It means that the powers that be put kibosh on tourists flying their own aircraft. I can imagine arguments, the chief of which is that tourists must stage at the so-called "welcome centers", which presumably include revenue opportunities for the tour operator. Still, it's disappointing.
UPDATE 2013/09/09: At the DC-X 20th Anniversary symposum, Christine Anderson made the following comments, according to The Space Review:
Anderson promises that the spaceport's visitors center will be fun for visitors. "If you come to this spaceport, you're going to have a good time," she promised. "It will be fun, unlike an airport."
Sick burn. But it's true. Airports used to be much more inviting places than they are now, thanks to the oppressive TSA regime.
Posted by: Pete Zaitcev at 04:47 PM | No Comments | Add Comment
Post contains 177 words, total size 1 kb.
Comments are disabled. Post is locked.
6kb generated in CPU 0.01, elapsed 0.0475 seconds.
23 queries taking 0.0367 seconds, 28 records returned.
Powered by Minx 1.1.6c-pink.