October 19, 2015
flying: So you want to travel by a private airplane, part 1
The executive summary is really simple: you must be > this < rich to travel by airplane.
It's not just the equipment costs. Looking at it from another angle, there are fundamental issues with the basic technology that prevents airplanes from being generally useful: a car delivers you door to door, while airplane delivers you airport to airport. So, unless you live in an airpark, you must drive to the airport, then fly, then rent a car at your destination. Therefore, in order to be accepted as transportation, the airplane must be so immensely useful to you, that you tolerate this giant handicap. This usually (although not exclusively) occurs when you are so rich, that the value of your time or your privacy is enough to pay for other people, such as chauffeurs and pilots. Or when you live in Alaska.
With that in mind, I'm going to run down the commonly available equipment options and group them into vague classes, from least to most useful, so we have at least some numbers.
Category Zero: STOL airplanes
These are actually very useful for transportation in remote areas and are often used in furtherance of a business. Examples: Super Cub clones, Zenith 850, Cessna 182 Peterson & King Katmai, Cessna Caravan, De Haviland Otter. We're going to ignore them in this post.
Recreational aircraft that are useless for transportation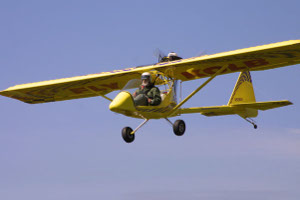 Aircraft in this category typically are too slow to compete with cars. Many are quite inexpensive - on the order of $10k..20k. Their users try and fly them to get somewhere all the time, but generally it's hopeless. Examples: Piper Cub, Cessna 150, Kolb Firestar, Icon A5. Cost: $15k to $230k to buy, $1k to $15k a year without hangar.
A plastic-fantastic Light-Sport Aircraft (LSA)
The speed of these airplanes is legally limited to 122 knots, 2 occupants, and 1320 lbs gross. As a rule of thumb they are about 2x the speed of a car. A flight of Remos GX from Santa Fe to Denver (FTG) takes about 2 hours 45 minutes, while a car ride takes about 6 hours (but you have a car at destination). Their payload and baggage space are very limited, to the extent that you must strip shopping bags from purchases you made in Denver before returning to Santa Fe. However, LSA may be flown without a medical certification, which may be crucial. Example: Flight Design CTLS. Cost: $70k to $200k to buy, $2k to $5k a year without hangar.
A basic single
These airplanes provided the bulk of personal transportation until the 1980s. They have enough range and payload to get you and your wife somewhere, just not in great comfort and not very quickly. The speed rate is about 2x of a car (although it goes better in the East where roads are twisty and slow). For example, you can get from Albuquerque to Phoenix in 3 hours, or about as fast as in LSA. But unlike LSA, you can pack for overnight, even week-long trips. In addition, most of the light singles are equipped for light IMC under IFR, which is quite important out East. Examples: Piper PA-28, Cessna 172. Cost: $30k to $60k to buy (yes, they top where LSA just begin), $2k to $6k a year without hangar.
Advanced single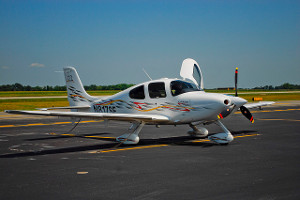 This is the first category that may be useful. We basically have 2 kinds of airplanes in this category: old like Bonanza and new like Cirrus. The Bo-like airplane is less expensive if used; a decent 1950s vintage can be had for as low as $28k (at one time I priced one of those with a swamp cooler - the pinnacle of 1956 luxury). The Cirrus-like airplane has modern amenities, such as air conditioner and emergency parachute; you can expect to pay $130k for a decent example. Either of them is $800k new, which is completely insane, but then you can cruise at 200 knots in them and even hit known icing! Realistically, however, the speed is about 3x to 4x of a car. This facilitates day use, such as being based in Dallas and visiting customers and partners across Texas and a bit beyond. Examples: Beechcraft Bonanza F33, Cirrus SR22. Cost: $40k to $150k to buy used, $12k to $20k a year without hangar (but you'll want one).
Twin and Turbine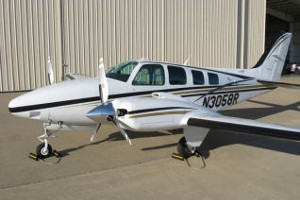 These airplanes are used by people who made it in a real American way. An owner of a construction company is a stereotypical example, although, frankly, nowadays it's commonly a political consultant, a junior financial executive, or a pro sports coach. I know that Dr. Antonio Elias, the chief designer of Orbital Pegasus flies a light twin between the launch and production sites of his rockets. You may even meet a former astronaut tooling along in one of these between Houston and D.C.. They are easily 4x..6x speed of a car and all are equipped for IFR. Example: Beechcraft B58 Baron, Piper Cheyenne. Cost: $200k to $1m and up to buy, $20k to $50k a year. And and you need a 40ft hangar.
Cheap Corporate Transport
Before Pilatus PC-12 disrupted this category, Beechcraft King Air ruled the roost here. At this price point we're starting to see CEOs and even politicians using the airplanes, which come with onboard toilet and airstair. These airplanes are about half the speed of an airliner and allow you to get from Albuquerque to D.C. in about 5 hours, which may be acceptable for business. Most are still rated for single-pilot operation, but are not flown by owners, who are simply too busy. Many require type ratings to fly anyway. Example: King Air C90, Cessna Citation III. Cost: $1.5m to $20m to buy, $100k a year thereafter. You're not likely to rent a hangar, but will outsource the parking to professionals at Cutter Aviation or other such company.
Category Infinity: Everything Above You
There is a great deal of difference in capability between these airplanes, but they are so crazily expensive, that there's no point in talking about them. By the time you're this rich, you will not have the time to read obscure blogs such as this one anyway. Examples: Gulfstream 650, Boeing BBJ.
From the very rough numbers above, the tragedy of the private aviation in the U.S. is very easy to see. The middle class simply cannot afford to pay a note, maintenance, insurance, and hangar cost of a minimally acceptable airplane, e.g. Cirrus SR22, unless their business can somehow justify its use. We are talking about sinking $30k a year. I used to know a guy who was a middle level manager in IBM - a Director or such. He flew his Cirrus between his home in Florida and sites such as Houston. Something like that may work, but otherwise, it's plainly impossible.
Poor pilots on forums love to make claims about scraping by: caring and feeding for a Bonanza for $8k a year. I literally saw someone to post "I drive a junk car in order to afford this airplane". I respect the enthusiast's zeal, but it's not a way to have public at large to fly little airplanes.
Posted by: Pete Zaitcev at 12:01 PM | Comments (2) | Add Comment
Post contains 1202 words, total size 8 kb.
1
That's an excellent, if depressing rundown.
Although to be fair, the people flying commercial also have to rent cars.
Posted by: Mauser at October 19, 2015 12:42 PM (TJ7ih)
2
Certainly, the same handicap applies to airliners, which is why so many people drive in the Midwest. Heck, I used to drive from San Francisco to Los Angeles at times. However, airliners also offer an excellent speed. If I had to go from SF to LA on a day trip for a business meeting, there was no choice but use Southwest.
Posted by: Pete Zaitcev at October 19, 2015 01:25 PM (XOPVE)
Comments are disabled.
14kb generated in CPU 0.09, elapsed 0.0903 seconds.
25 queries taking 0.0576 seconds, 31 records returned.
Powered by Minx 1.1.6c-pink.