March 01, 2011
flying: Practical Test
I'm just back from the Private checkride, that I passed marginally. The DPE cut me a lot of slack. At his discretion, an examiner may ask the applicant to perform a failed maneuver again, but only once. When we went to do a soft field landing, I landed... not really hard, but not smooth either, which was a failure. The examiner allowed me to retry it, and I did it within parameters. Then, we went for a short field landing and it was clear that I would float. By this time I was out of the retry, so he instructed me to go around. Officially, he saw me performing the go-around, but unofficially I got a chance to land again. I managed to land properly next time. Formally, everything was correct, but it's clear that I need a lot more practice and application in this, which is plain embarrassing. One would think that at 75 hours I knew how land at least. Oh, and today there was basically no crosswind.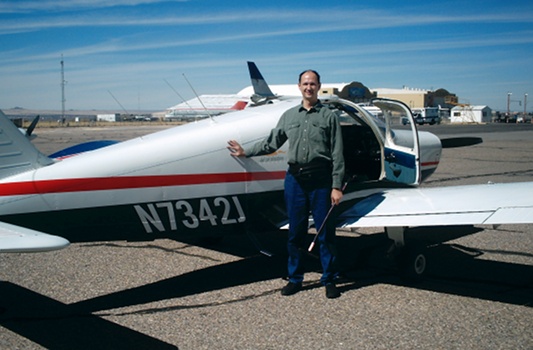 Totals:
Hours: 75
Landings: 144
Months: 7
Dollars: 14,400
Posted by: Pete Zaitcev at 01:19 PM | Comments (3) | Add Comment
Post contains 182 words, total size 1 kb.
1
Congratulations! It's a nice milestone. Are you going to push forward toward a commercial or multi-engine license?
Also, your notation on the total cost made me sad. I really do not want to be reminded how much this hobby costs.
Posted by: coriolinus at March 06, 2011 05:51 AM (RgU+0)
2
It's too late for me to go commercial. My health is fading and I suspect I am not going to hold to 3-rd class medical for long, let alone the 2-nd.
As for paying approximately $180 per hour, that happens when Cherokee costs $130 wet. The surprising part is how much cheaper it is at my old home base TCY in California. You'd think middle of the country were cheaper, but it's not. With a $99/hr rental, and a bit of application, it would be possible to fit under $10k.
Posted by: Pete Zaitcev at March 06, 2011 01:48 PM (9KseV)
3
Congrats, Pete. Welcome to the club.
Posted by: Frank Ch. Eigler at March 24, 2011 08:04 AM (FJ+Jc)
Comments are disabled. Post is locked.
7kb generated in CPU 0.02, elapsed 0.0403 seconds.
25 queries taking 0.0291 seconds, 32 records returned.
Powered by Minx 1.1.6c-pink.