September 22, 2016
Da Capo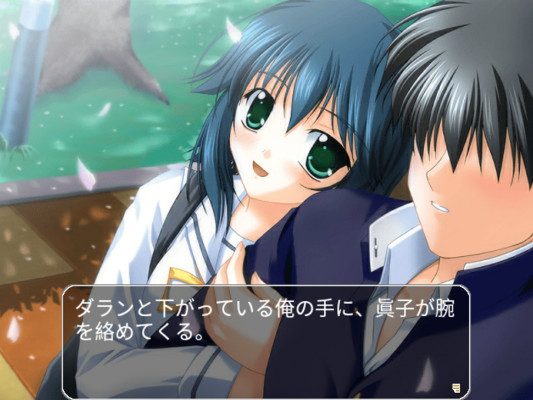 In my insatiable thirst for untranslated VN apps, I eventually reachad for Da Capo at Amazon. It was popular enough in its day to get an anime adaptation.
And I learned quickly why it was refered by "Da Crapo" by Momotato in 2005 (page not online anymore). The art takes the worst of Kanon. Characters are borderline acceptable on each own, but they present an eclectic salad with no theme or reason togeher. The main heroine is apparently the sister. I only ran down Mako's path before I had enough. Here's a spoiler to give a sample of the plot: Mako is troubled by romantic attentions of a lesbian and recruits our hero to be her pretend boyfriend in order to shield herself. Naturally, they fall in love in the process... Which again, could be accepted, but the writing was unbearably poor. Things just happen with no development whatsoever. Okay, almost. The dude helps the poor thing to select a present for her brother once. Hardly enough for romantic feelings to develop.
It's not quite the worst $10 ever spent, because I picked a few kanji along the way, but it's quite close.
Posted by: Pete Zaitcev at 06:34 AM | No Comments | Add Comment
Post contains 195 words, total size 1 kb.
Comments are disabled.
6kb generated in CPU 0.02, elapsed 0.0437 seconds.
23 queries taking 0.0315 seconds, 28 records returned.
Powered by Minx 1.1.6c-pink.