March 19, 2011
Mitsudomoe manga v.11
WAH posted an editorial on Mitsudomoe Z, where he takes on a rather difficult task of explaining, and that is very commendable. Not for the first time either.
As it happens, I was in SF Kinokuniya a couple of days ago and picked Mitsudomoe v.11 to read on a plane. It's quite funny and has okurigana.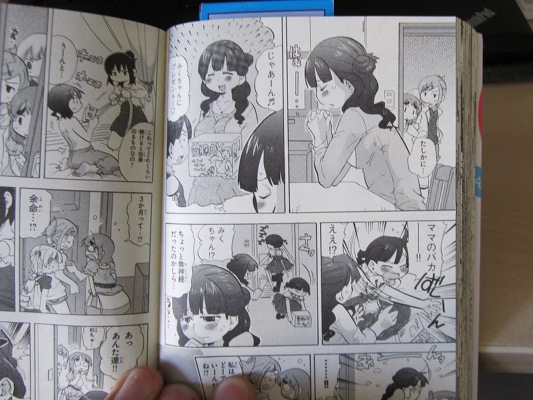 The level of outragenerss is about the same as anime. Pictured is Sugisaki-mama presenting Miku with a breast-enlargement vacuum.
Unfortunately, I cannot answer WAH's question about the adaptation. I only know that there is a time progression in the manga, and if they go on like this, the girls have to graduate by about v.35.
P.S. My own quake+tsunami donation went through Salvation Army. WAH's idea about the Japan Society may be good.
Posted by: Pete Zaitcev at 03:22 PM | No Comments | Add Comment
Post contains 132 words, total size 1 kb.
Comments are disabled. Post is locked.
5kb generated in CPU 0.02, elapsed 0.0495 seconds.
29 queries taking 0.034 seconds, 26 records returned.
Powered by Minx 1.1.6c-pink.