February 15, 2015
Alexey Ramm on the first Ukrainian catastrophy in Novorossia
A stolid Russian publication "The Military-Industrial Courier" published an article by Alexey Ramm (in two parts) that parsed actions of Ukrainian military. It became widely cited in narrow circles, at places like Topwar and Leshiy. As usual, commenters seem to prefer to bend it to their agenda. Leshiy, in particular, pointed out how Ramm "conclusively debunked" the "delusions" about the participation of Russian armed forces. Having actually read the source, I say that Ramm does no such thing. He makes no claims about the composition of the Novorossian militias, only lays down the facts about their relatively low numbers, initially poor armaments, which were gradually, but constantly bolstered by trophies, and what their combat actions were from the point of view of Ukrainian staff.
Due to the place of publication, and targeting the print format, the article is quite long. I invite those interested to Google-translate it themselves. What I found interesting is Ramm's original focus on the way Ukrainians adopted our lessons and how that brought them to ruin in the 1st massive defeat during the summer 2014. Here, I refer to the Illovaisk defeat as the 2nd one, while Ramm only describes the ill-fated "march along the border" in his article.
Leaving all the boring facts, Ramm's executive summary follows in my translation. Observe in particular how he summarizes our actions before and during "The Surge". "ATO" is the Ukrainian newspeak for the war in Novorossia (it translates literally as "Anti-Terrorist Operation"). Emphasis mine throughout.
In the first clashes of May - June, Ukrainian command largely acted upon the American experience of anti-guerilla operations in Afghanistan and Iraq. Not only in the ATO Command, but in Sector commands, there was a number of officers who educated in [military] colleges of NATO countries. According to the experience of Ukrainian detachment in Iraq, manuals were printed and distributed on the topics of making marches, blocking/checking towns, controlling roads, and carrying out the functions of checkpoints. Actual American [Army] field manuals were translated and distributed as well on [additional] topics of storming [towns], providing intelligence support, and CQB.

[...]

Initially, the core [of the plan] was composed upon the American experience of 2004-2005. Back then, the mechanized/mobile groups, by performing a decisive march upon roads, occupied the assigned sites, placing checkpoints along the way. Attacks of the enemy were repulsed by fire of APCs and tanks on the move, with attached mortar support involved as required. Such actions permitted not only take control of roads, towns, bridges, and intersections, but largely immobilize the enemy, limiting his movements to desired regions. [Thus,] in 2004-2005, U.S. military, although with difficulty, achieved all assigned objectives.

The ATO Command planned to use Batallion (BTG) and Company (RTG) tactical groups analogously to American mobile groups. Similarly, the routes of marches for the groups were planned along roads. At the march, mostly single, greater capacity road [or highway] was used, and at intersections with secondary, unpaved roads checkpoints were installed [manned by secondary units].

Towns were supposed to be blocked by checkpoints at all roads. While executing the march, BTG and RTG assigned only avant-guard and arrier-guard. Because the Command did not expect active resistance with modern and heavy weapons, flank guards were not assigned, and their functions were assigned to checkpoints. [On reflection it seems that] the plan expected resistance by guerilla armed with light arms and rocket-propelled grenades.

The Command missed that in Iraq, American mobile groups consisted of 2..3 re-enforced infantry squads with 1..2 squads for checkpoints. They acted in a desert landscape with good visibility, and performed marches at night, making a good use of superior night vision equipment. The supply of mobile groups was done by helicopter. Only after blocking of towns, the supply by truck was established.

The Command assigned cumbersome BTG and RTG as mobile groups, having dozens, at times hundreds, of vehicles, which required a constant supply by all kinds of materiel.
One of the recurrent motifs of Putin's propaganda lapdogs recently was that the supply of modern arms to Ukrainians will do no good, not only because it will be stolen, but because Ukrainians are not capable of deploying those arms. I have to admit that there's some truth to that, and that's despite of Ukraine having the actual experience fighting as part of multi-national coalition. The debacle that ensued when they tried to ape us in combat should underscore just how valuable West Point really is.
For the record, my reservations against arming Ukraine are generally financial. They aren't fighting an important or good fight, despite the duplicitous propaganda about the horrors of Putin's aggression. All Ukrainians are trying to do is to genocide ethnic Russians. What do we care? So, if they want to buy good armaments from us, then sure, why not. But giving them arms for free should take a backseat to giving arms to Kurds. IMHO, of course. And this should not be mixed up with the topic of such arms supply being wasted upon Ukrainians. We already give M1 tanks to Iraq government, which promptly loses them to ISIL, so what difference does it make? In fact, it's probably better to gift them to Putin via Ukrainians, than to ISIL.
But anyway, reading Ramm demonstrated to me once again just how much the American military might turns upon the smarts nowadays. Now I expect liberals do their utmost to infiltrate and destroy military academies first. And we'll never know about it, because MSM will cover it for them.
P.S. Cannot resist a bit more, for the taste:
[By the July 12,] the Height 27, or what later became famous as the Saur-Mogila hill, was occupied by militia. Notably, according to the initial plan, the height was supposed to be taken even before the general advance, by Spetsnaz battalion "Azov" of MVD. But on July 4, the volunteers of "Azov" unexpectedly collided with minutemen, who already took defence on the hill. The personnel of "Azov" advanced upon the hill in civilian vans, which were destroyed in the first minutes of the fight among and near the service buildings of the memorial.
Ukrainian army then tried to take Saur-Mogila with the strength of an RTG of the 79th Brigade on July 12, but that storm was repulsed. They tried again with 1 BTG and 1 RTG of the 25th Airborne, 1 BTG of 51st, and 1 BTG of 95th on July 25. The Airborne managed to occupy the hilltop for a short time, but were unable to maintain control. Another storm was carried out on August 6. For that failure, the CO of the 51st Pavel Protsuk was dismissed. Finally, the 25th Airborne took the Saur-Mogila on August 9. However, by that time, the whole operation collapsed all around them and this Pyrrific success did Ukrainian side no good.
P.P.S. As you can imagine, certain people derived poorly founded historic parallels and tried to score propaganda points.
The general view of the memorial before the war (2010).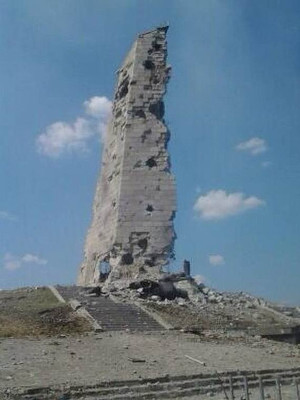 The main pillar was still standing on August 8.
The remains of the monument were finally taken by DNR's army units and militias at the end of August.
Posted by: Pete Zaitcev at 10:40 AM | Comments (4) | Add Comment
Post contains 1178 words, total size 8 kb.
Posted by: kazriko at February 15, 2015 07:23 PM (677yh)
Posted by: Pete Zaitcev at February 20, 2015 10:57 AM (RqRa5)
Posted by: Suburbanbanshee at March 02, 2015 04:30 PM (ZJVQ5)
Posted by: Pete Zaitcev at March 02, 2015 05:04 PM (RqRa5)
Comments are disabled.
15kb generated in CPU 0.03, elapsed 0.0565 seconds.
25 queries taking 0.0346 seconds, 31 records returned.
Powered by Minx 1.1.6c-pink.